CyberRow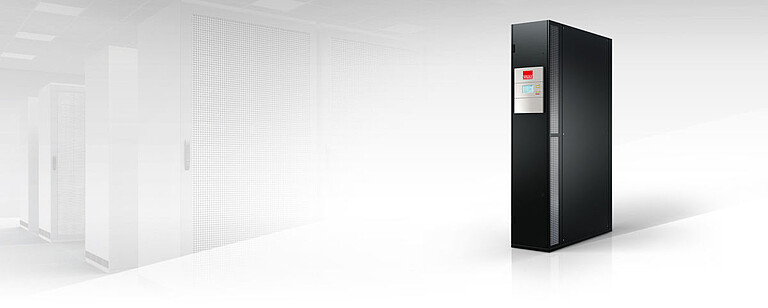 For more efficient rack cooling
In the CyberRow, in-line air conditioning unit, innovative horizontal air conduction has been enhanced with state-of-the-art technology that works with power, flexibility and efficiency – directly at the rack. Fluctuating server rack loads, space restrictions, lack of a raised floor, existing high-density server technology – these are exactly the cases from server rack cooling practice for which CyberRow was developed.
>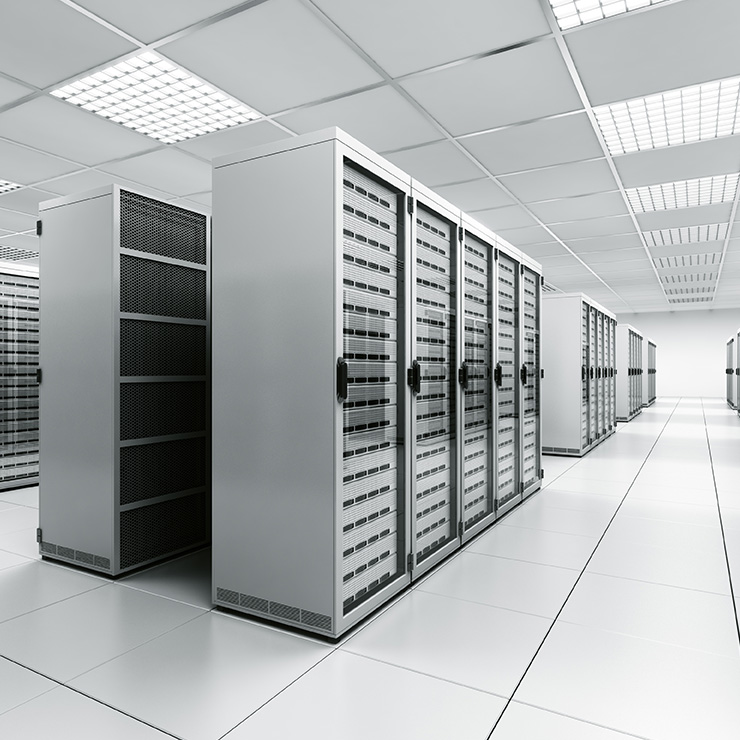 >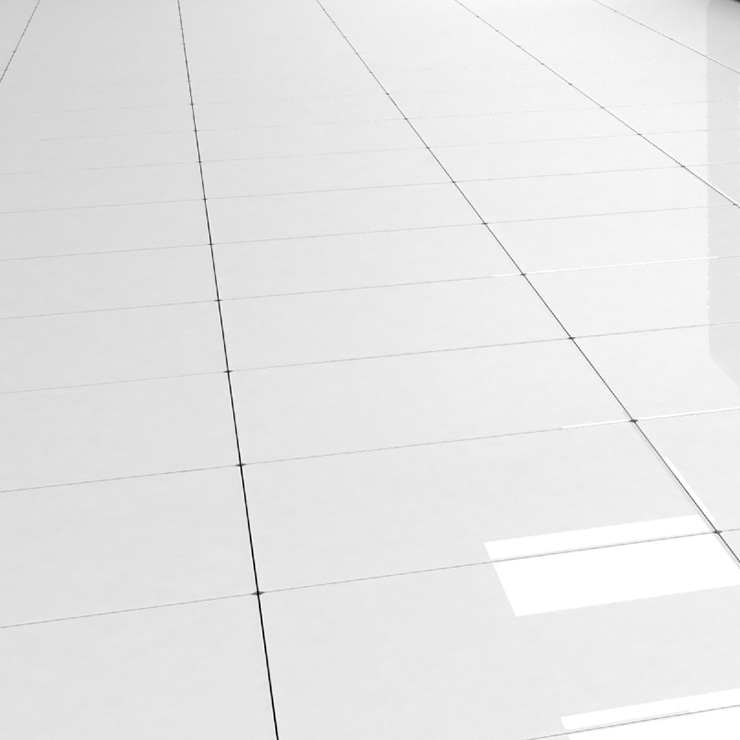 >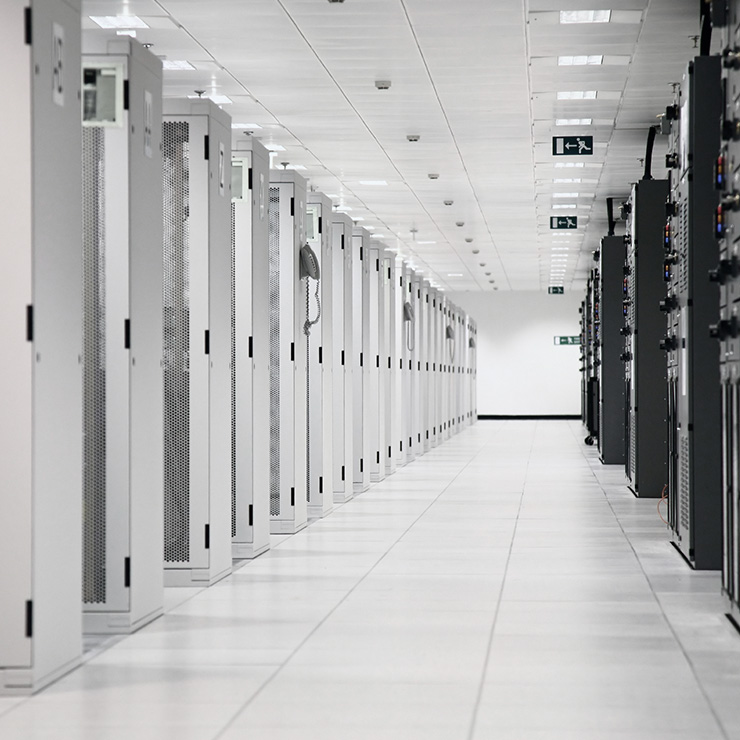 >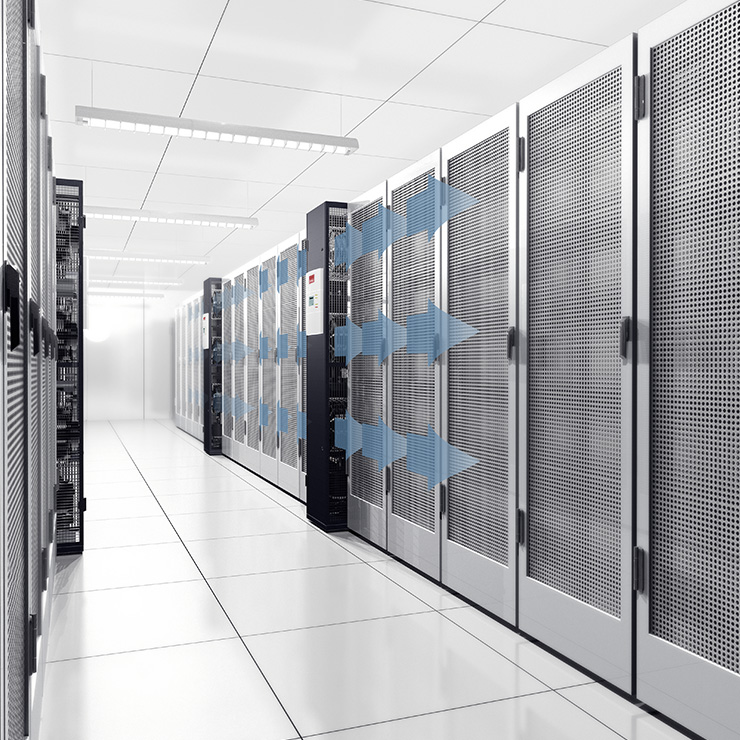 Product Overview
At a glance
Benefits
Features
Technical Data
Most important benefits
Suitable for server rack cooling in data centers with or without raised floor
Indirect Dynamic Free Cooling for maximum potential savings
Targeted cooling of high-density racks
Most important features
Can be used with racks from any manufacturer
Individual supply air boost in three horizontal zones
Most important technical data
Cooling capacity (kW): 11 – 58
Air conduction: left and right, left, right, forward
Suitable for data centers with or without raised floor
Indirect Dynamic Free Cooling for maximum potential savings
Targeted cooling of high-density racks
Each unit can cool up to six server cabinets
Innovative technology and high-quality components keep server rack cooling system's energy consumption to a minimum
Two mutually independent setpoints ensure precise temperature control
Up to five independent, variable-speed EC fans for need based cooling in three horizontal zones
Variable-speed EC compressor for precise cooling capacity and integrated soft start
Easy maintenance thanks to access from the front and rear of the unit
Can be used with racks from any manufacturer
Server rack cooling including individual supply air boost in three horizontal zones
Available in three widths and two depths
Available in 5 different cooling systems
Optimized cooling air pattern creates a virtual containment
Easy integration into hot and cold aisle containments
RS485 connectivity to standard BMS systems
Zigzag G4 filter with metal frame
Powder-coated housing with doors at front and rear
Pre-cut openings as standard for water connections top and bottom
No direct cable or refrigerant connections are required between the rack and the A/C unit, allowing greater flexibility for installation in the Data Center
Pivoting E-box (for service and maintenance)
Cooling capacity total (kW)
11 – 58
Air conduction
left and right, to the left, to the right, forward
Airflow volume (m³/h)
3,200 – 11,200
Sizes
6
Dimensions
Height (mm): 1,950

Width (mm): 300 – 600

Depth (mm): 1,175 – 1,375
Cooling Systems
Air-cooled (A/AS), Water-cooled (GS), Hybrid Free Cooling system (GES), Chilled water system (CW/CW2)
Refrigerants

R410A (GWP: 2,088)

R134a (GWP: 1,430)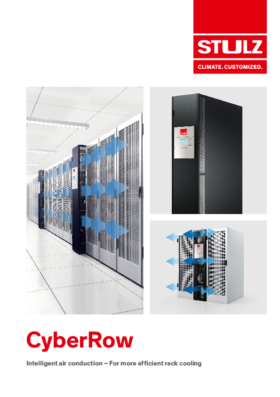 Need more information?
Download our brochure!
All details about CyberRow
Climate. Customized.
From standard units to fully customized solutions
The ability to offer such a wide range to customers is the embodiment of our philosophy, "Climate. Customized.". Size, design, air conduction, system or control: CyberRow is a model of adaptability and the units can be precisely adapted to your individual requirements regarding server rack cooling. In addition, a variety of options and equipment versions are available to achieve the optimum result.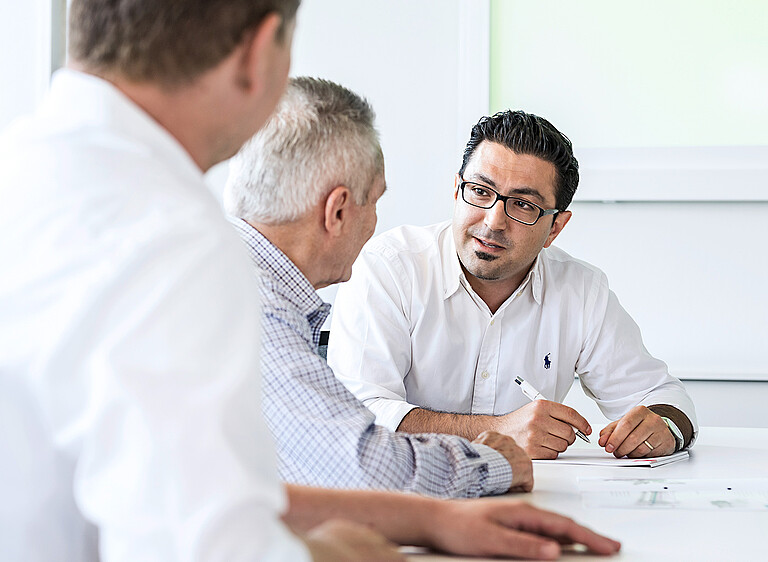 Virtual Containment
Unique air conduction
With the CyberRow, STULZ offers an efficient air conditioning solution that is positioned directly between the racks in the server room. Thanks to the innovative horizontal air conduction, the supply air is directed to the server racks and forms a cold air curtain in front of them. There is no air turbulence, which means that up to six server racks can be cooled simultaneously. The high efficiency of the CyberRow units is possible due to their proximity to the server rack: their unique air conduction prevents hot and cold air from mixing. This air conduction is like a virtual containment, dispensing with the need to build actual containments.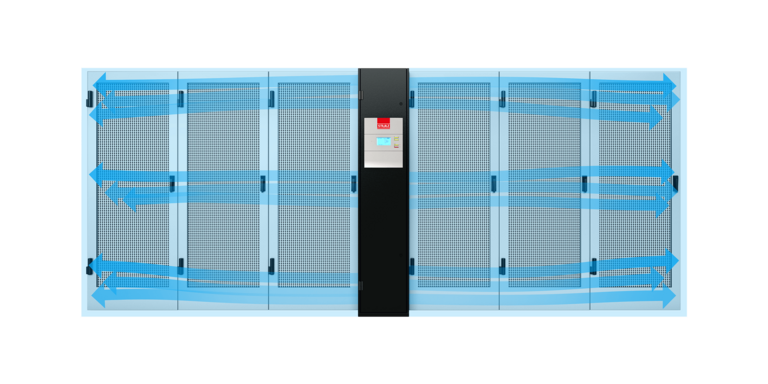 No air turbulence during server rack cooling
The virtual containment can be clearly seen in this picture. The air flow virtually sticks to the server racks and there is no air turbulence. The cold air takes a direct route to the front of the rack-based servers.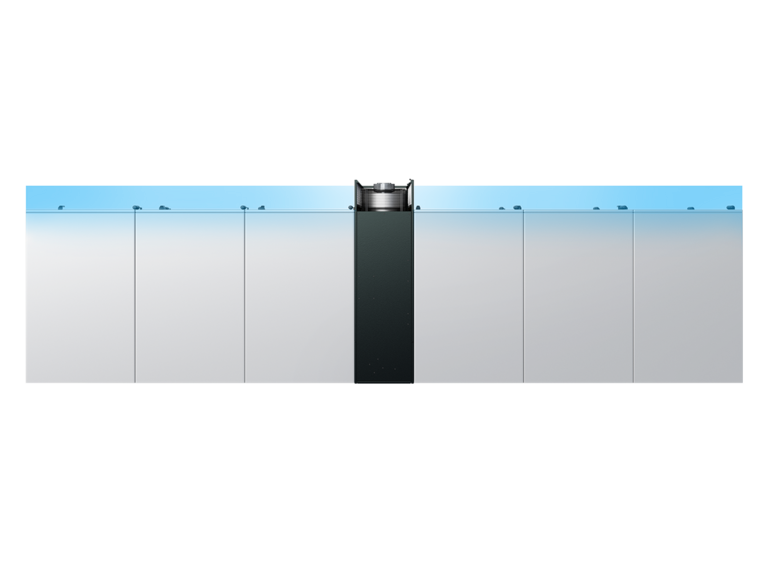 CFD visualization
The red areas – around the EC fans – show that the fans emit the cold air at a very high speed (approx. 9–11 m/s) at the outlets. However, this is only the case as long as the air is in the housing. The partitions installed between the EC fans channel the air flow and the air baffles at the outlet ensure uniform distribution across the entire height of the racks.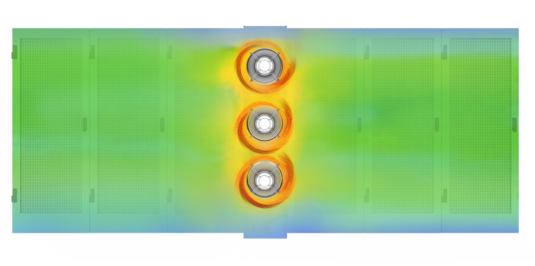 CFD simulation
Comprehensive control over all relevant factors is vital to achieve optimal performance and efficiency in a data center. STULZ contributes to this goal by providing the CFD (Computational Fluid Dynamics) service for data centers, using its unique fluid dynamics expertise at the product level to make the CFD simulation more accurate at the application level.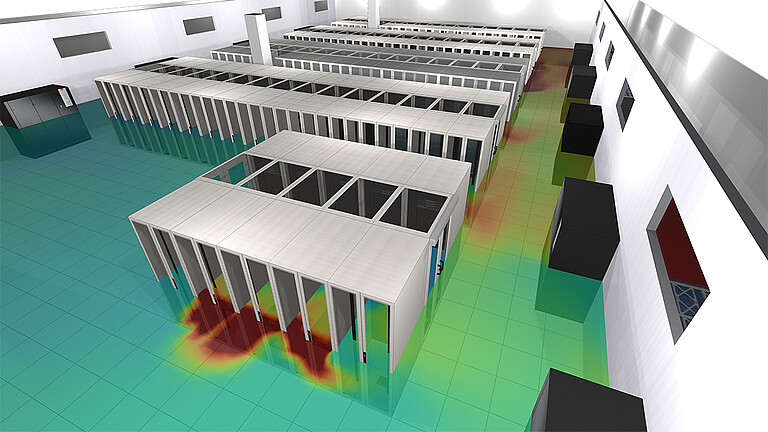 Sizes
Minimal footprint for more white space in the data center
Maximum efficiency, precise cooling capacity and a small footprint – the CyberRow is available in three widths and two depths and ensures cost-effective and reliable operation in all situations. The individual units are positioned directly between the racks, and their compact design leaves even more space free for your IT equipment. The units are suitable for racks from any manufacturer, and are available in different depths which enables easy maintenance access from the front and rear at any rack depth.
Width: 300 mm, 400 mm, 600 mm
Unit depths: 1,175 mm, 1,200 mm and 1,375 mm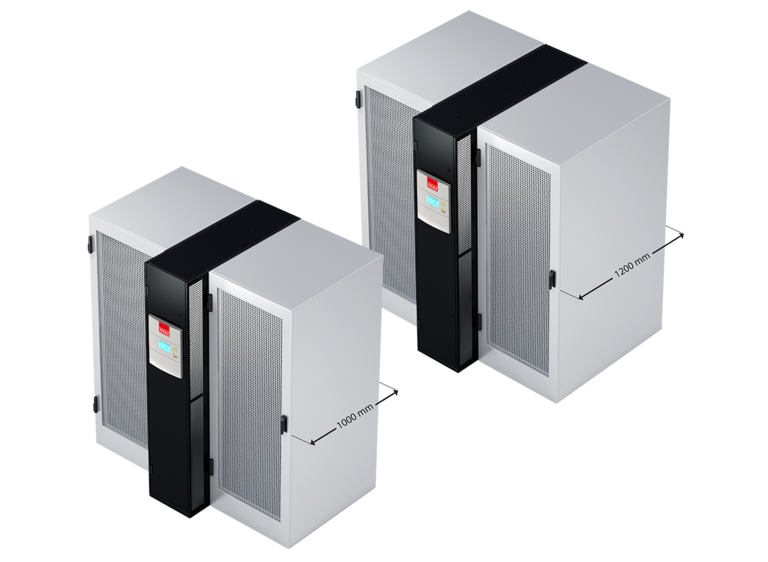 Cooling systems
Energy efficiency, capital investment, operating costs, room size, noise protection, redundancy, local climate – every project has its own specific requirements when it comes to precise air conditioning. That's why STULZ offers you the opportunity to have the units precisely adapted to your project's individual requirements. The right air conditioning system is a crucial factor here. The CyberRow is available in five different data center cooling systems, to help you achieve the ideal balance between investment, operating costs and energy efficiency.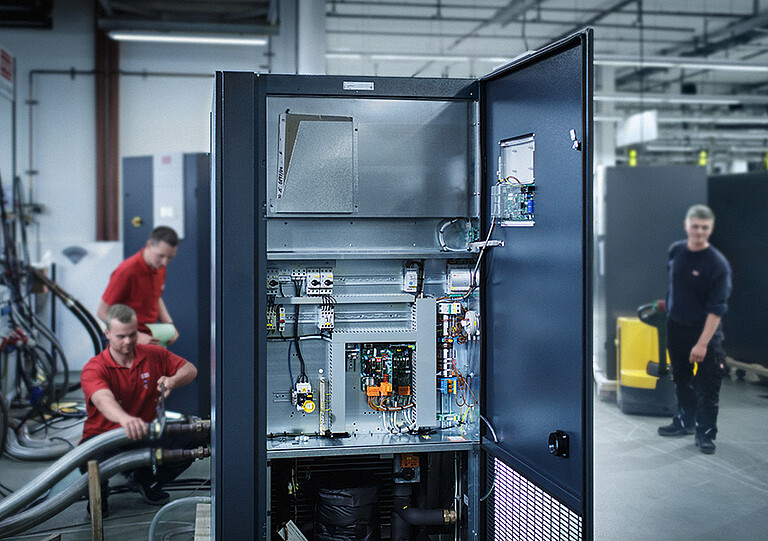 Air-cooled system (A/AS)
Air-cooled system based on the direct evaporator principle (A/AS)
Heat is extracted from the room air as it flows through the evaporator, and is then transferred to the refrigerant. The air conditioning unit and condenser are connected to one another by a closed refrigerant circuit. The refrigerant emits the heat to the outside air via the air-cooled condenser.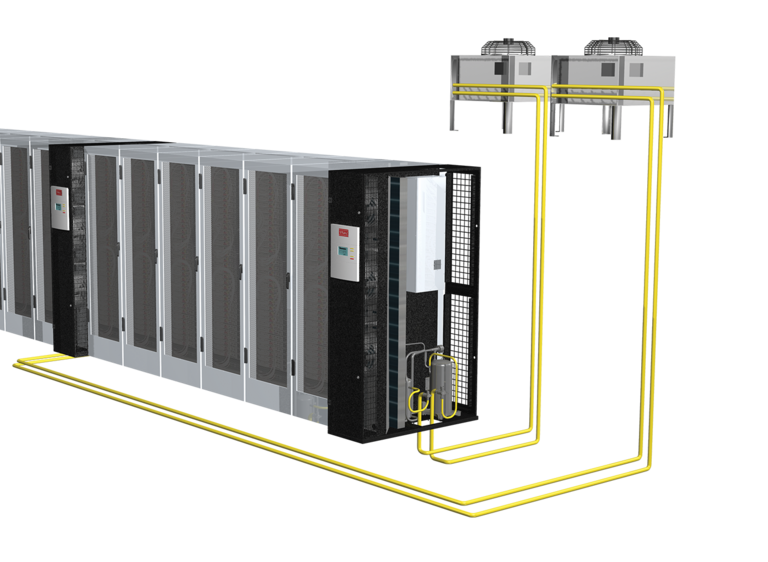 Water-cooled system (GS)
Water-cooled system based on the direct evaporator principle (GS)
Our water-cooled system works like the air-cooled system, with one difference: the heat from the refrigerant circuit is transferred to a cooling water circuit via a brazed plate condenser integrated in the air conditioning unit. This way, the amount of refrigerant required is low. The heat in the cooling water circuit is then discharged into the outside air via an external dry cooler.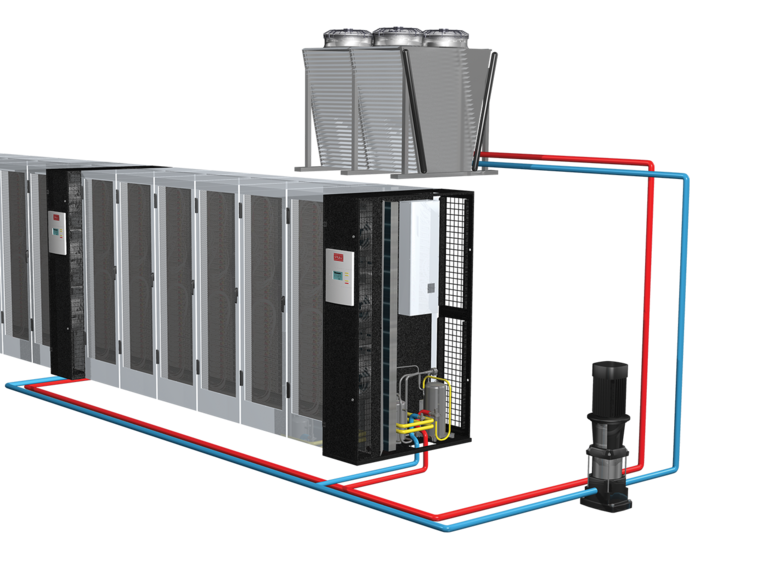 Hybrid Free Cooling system (GES)
Hybrid Free Cooling system with dynamic switching operation and control (GES)
This server rack cooling system functions like the GS system, but additionally features an integrated Free Cooling coil. This way, energy- intensive compressor cooling can be wholly or partially dispensed with at low or temperate outside temperatures. The heat is transferred directly to the cooling water circuit by the integrated Free Cooling coil, and discharged into the outside air via an external dry cooler.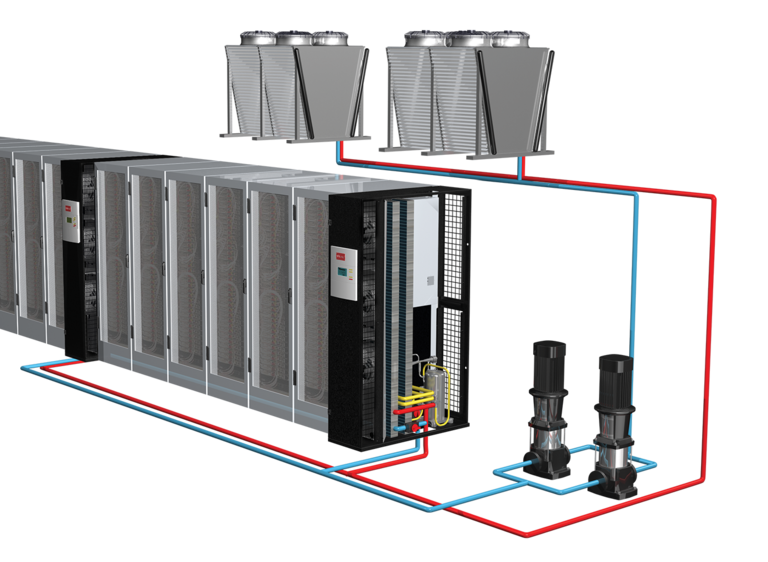 Indirect Dynamic Free Cooling
The GES system features dynamic switching operation and control, which guarantees reliable and efficient operation. The combination of Indirect Free Cooling and variable-speed components enables precise cooling adapted to the current heat load, and cuts overall energy consumption to a minimum.
Minimal compressor running time
Using Indirect Free Cooling, the hybrid Free Cooling system exploits the cooling potential of outside air as soon as outside temperatures allow. This enables energy-intensive compressor cooling to be partially or even wholly dispensed with.
No oversupply
The variable-speed components ensure that precisely the required cooling capacity is generated. There is therefore no energy-intensive oversupply during the server rack cooling process.
Minimal refrigerant quantities
As the hybrid Free Cooling system is water-cooled, it only needs a minimal quantity of refrigerant. The result is environmentally friendly operation with reduced greenhouse gas emissions, for a forward-looking investment in the future.
Chilled water systems (CW/CW2)
Chilled water systems (CW/CW2)
The air conditioning unit with CW system manages without a refrigerant circuit of its own, but requires a separate chiller. The air conditioning unit and chiller are connected to one another by a closed water-glycol circuit. For high-availability systems, the CW2 system offers a redundant chilled water supply by connecting one air conditioning unit to two chilled water circuits.

Efficient server rack cooling: Synchronized complete systems
You too can benefit from our perfectly harmonized air conditioning solutions with chillers for indoor and outdoor installation. We are happy to advise you, and work with you to come up with the best solution for your air conditioned server rack.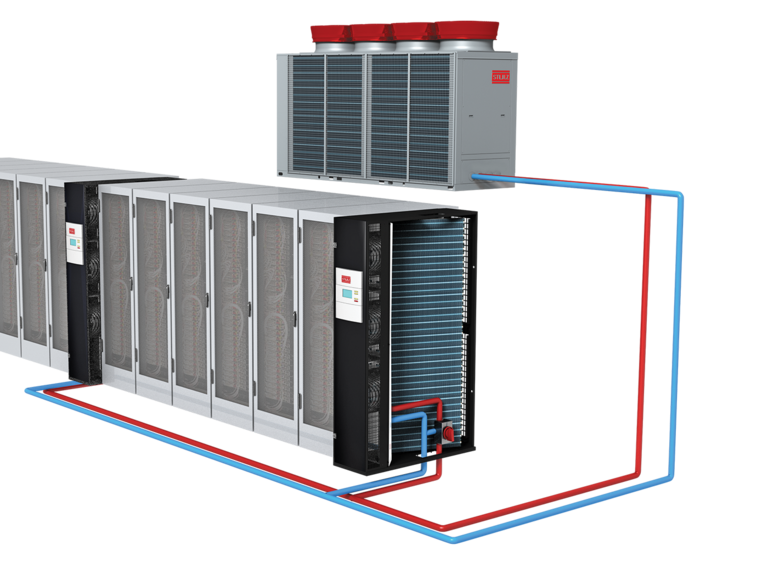 EC technology
EC compressor
The AS, GS and GES systems are equipped with stepless variable-speed EC compressors, making our systems more efficient than ever. The compressors feature integrated soft start and phase monitoring.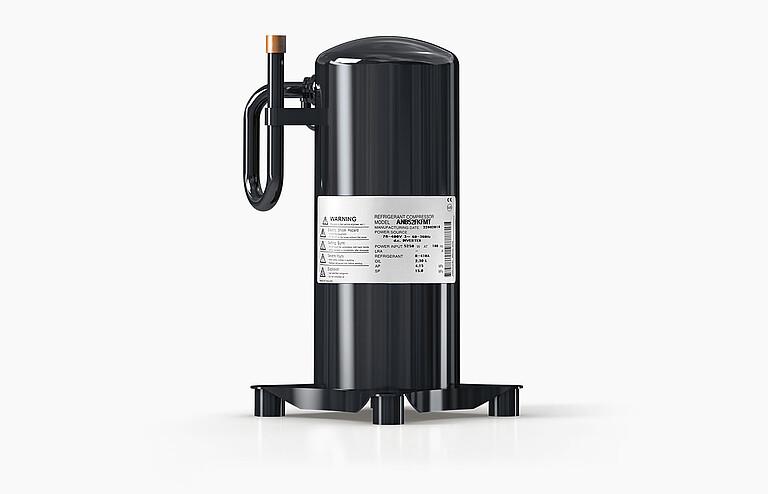 EC fans
Up to 5 speed-controlled fans which can be controlled independently of each other for optimum adaptation to different return air and supply air temperatures.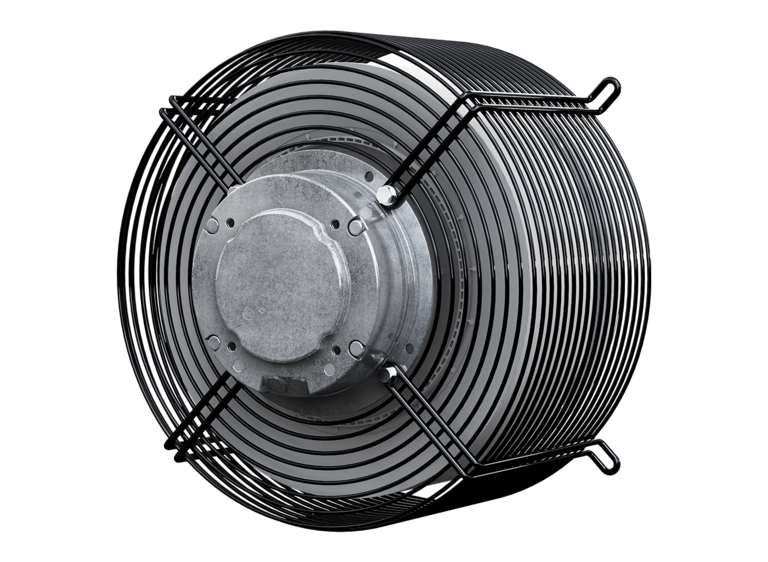 Control and monitoring
Self-developed STULZ controller for regulating and monitoring the air conditioning system
Six temperature sensors for precisely controlling Delta T and supply air
Controls the operating modes of the hybrid Free Cooling system
If a fan fails, the remaining fans speed up
Monitoring and reports for all faults regarding server rack cooling
Standard RS-485 serial port for connection to BMS using Modbus and STULZ protocols
Optional humidity sensor
Optional heater
Optional humidifier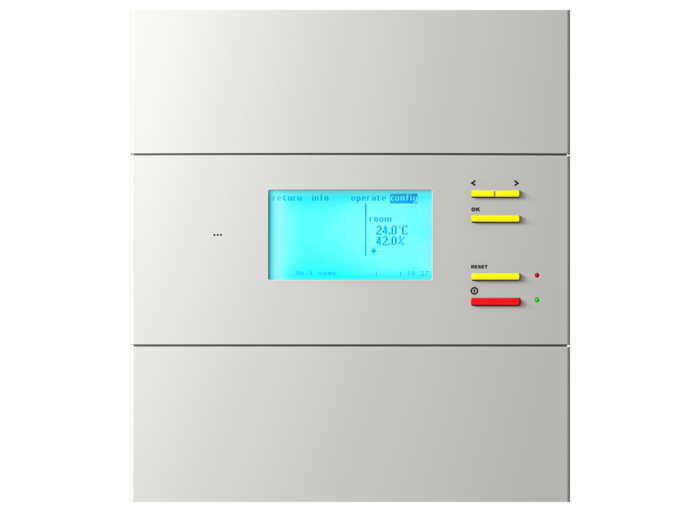 Project story: Ideal room climate for optimum printing processes
STULZ optimises critical print production conditions at Paragon Customer Communications
When it comes to guaranteeing the fast turn-around of critical regulatory communications, using the fastest print presses in the world, capable of producing up to two million pages a day, Paragon Customer Communications (Paragon CC) know that effective service delivery is increasingly reliant on room  temperatures and humidity.
Paragon was looking for a tailored Air Conditioning solution for their demanding facilities in both a print room and a data centre. Reliability of equipment, no down-time and energy efficiency were the main  drivers, and this is exactly where STULZ could offer a tailored solution providing the equipment and technology needed for cost efficient perfect environmental conditions.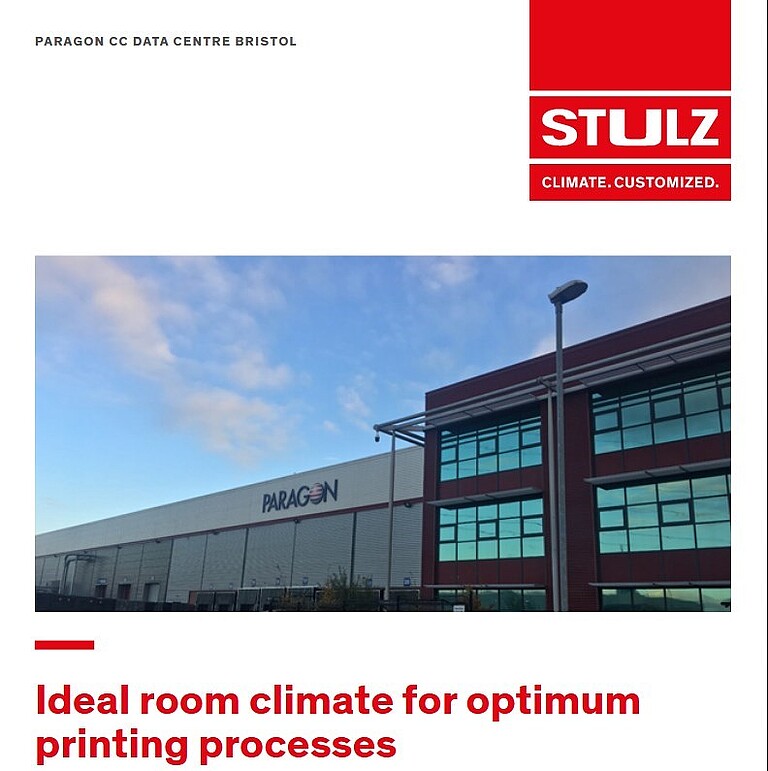 Test Center
In our state-of-the-art, 700-square-meter Test Center with its various climate chambers, we can perform a variety of tests on precision air conditioning units and chillers. During the development of the CyberRow, we were able to test and optimize it under all climatic conditions encountered around the world.

In addition, we offer you the opportunity to book a witness test in our Test Center. This allows you to have the desired air conditioning system tested according to your exact specifications, creating transparency and providing you with information about your system's performance and energy consumption.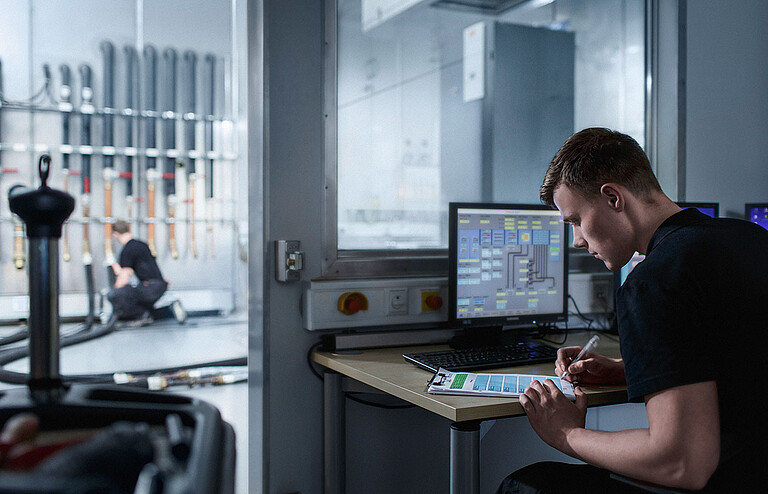 Back to Selection