CyberLab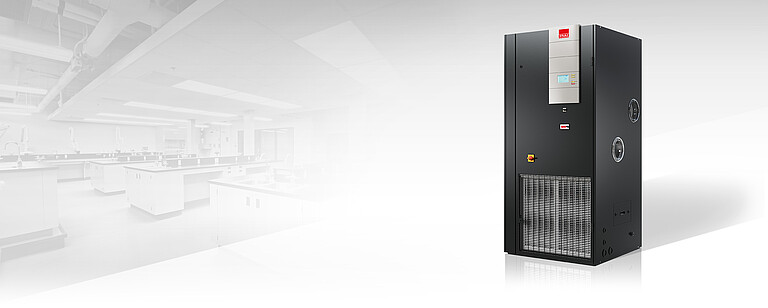 Precision air conditioning units for a constant climate
With the CyberLab, STULZ is introducing a new precision climate unit that was developed specially for applications with a low or no heat load, though in which temperature and humidity need to be kept constant with precision. This product is a reliable and efficient hvac-solution for laboratories, archives and museums.
>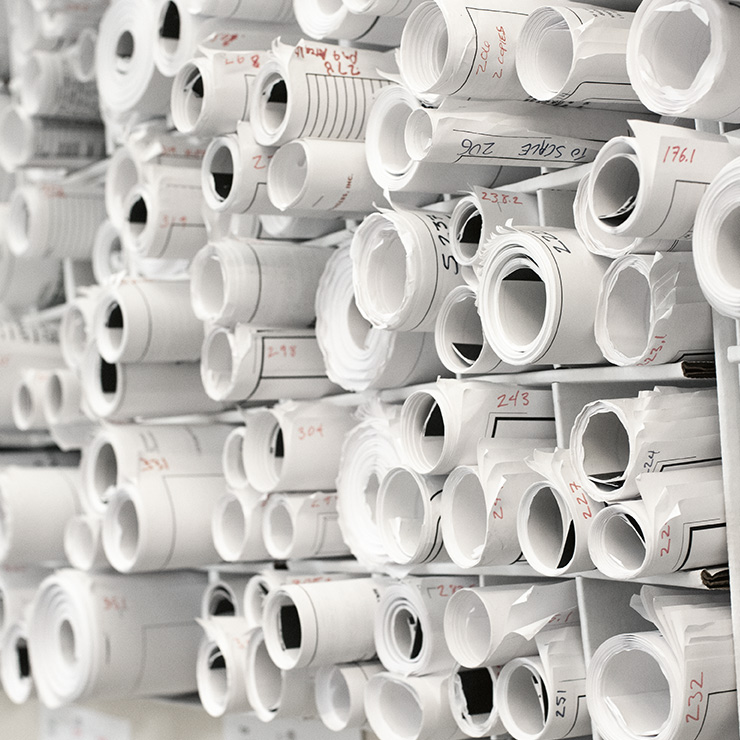 >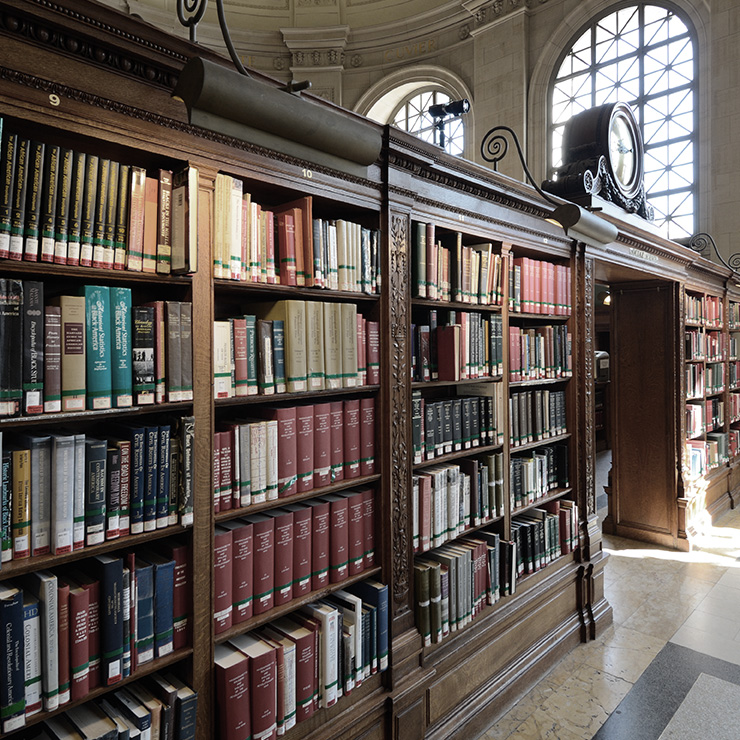 >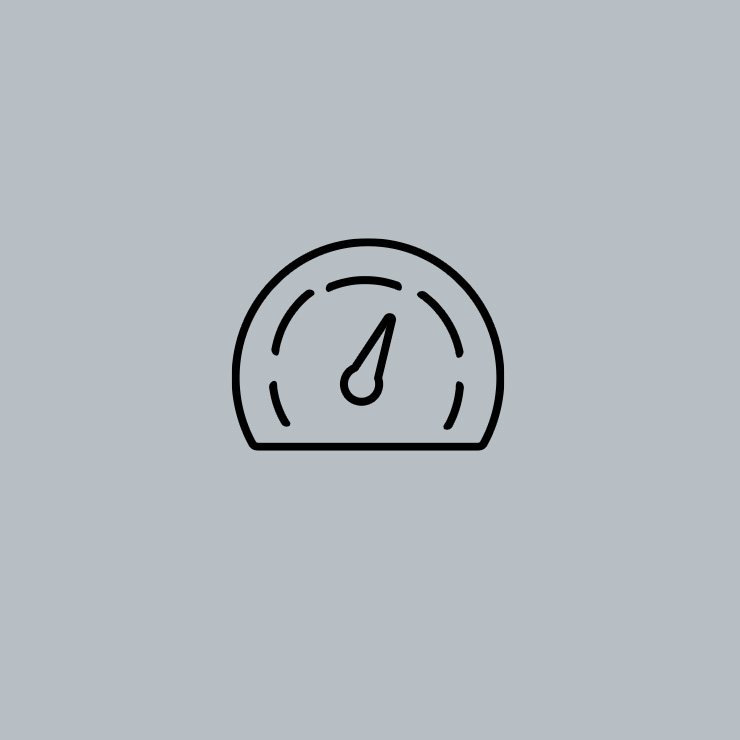 >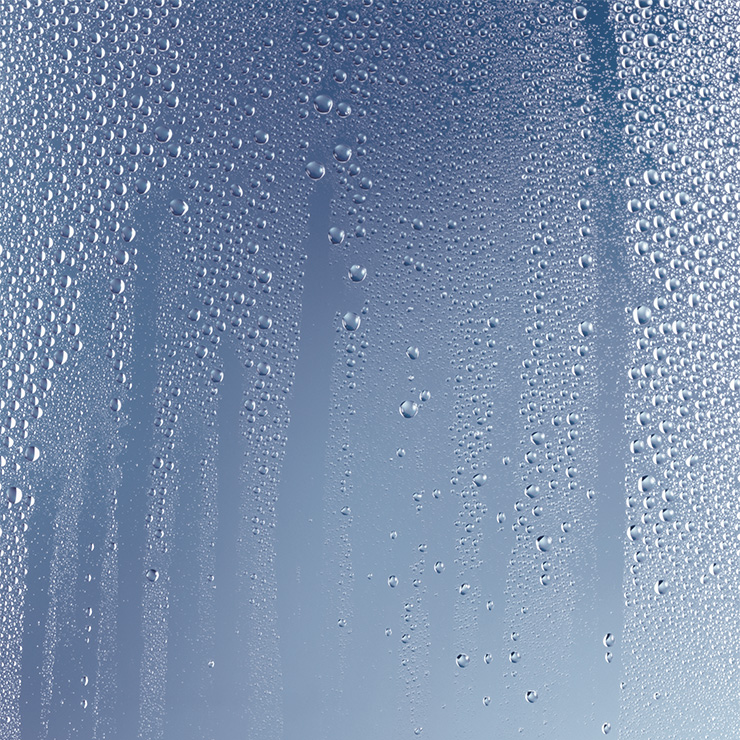 Product Overview
At a glance
Benefits
Features
Technical Data
Most important benefits
Satisfies the hygiene requirements of VDI 6022   
Precise control system
High-quality, perfectly harmonized components
Most important features
Air-cooled version
Control accuracy: Temperature +/- 0.5 K – humidity +/- 3 %
Most important technical data
Cooling capacity total (kW): 20
Air conduction: Upflow
STULZ reputation with durable and high-quality products
The market's first standardized unit for special applications of this kind
Compact design for easier transport and installation
Satisfies the hygiene requirements of VDI 6022
Designed for continuous, no-downtime operation over many years
High-quality, perfectly harmonized components
Precise control system
Use of EC technology for maximum efficiency
Opportunity to get your hvac for labs and similar applications tested in our Test Center
Service available worldwide
Filter class M5
Refrigerant heater and proportional electric heater integrated within museum or laboratory cooling equipment
Activation of a "BNB" humidifier (ultrasonic humidifier) which has to be installed externally
Control accuracy: Temperature +/- 0.5 K – humidity +/- 3 %
EC compressor
| | |
| --- | --- |
| Cooling capacity data (kW) | 20 |
| Sizes | 1 |
| Air conduction | Upflow |
| Refrigerant | R410A (GWP: 2,088) |
| Cooling System | Air-cooled (AS) |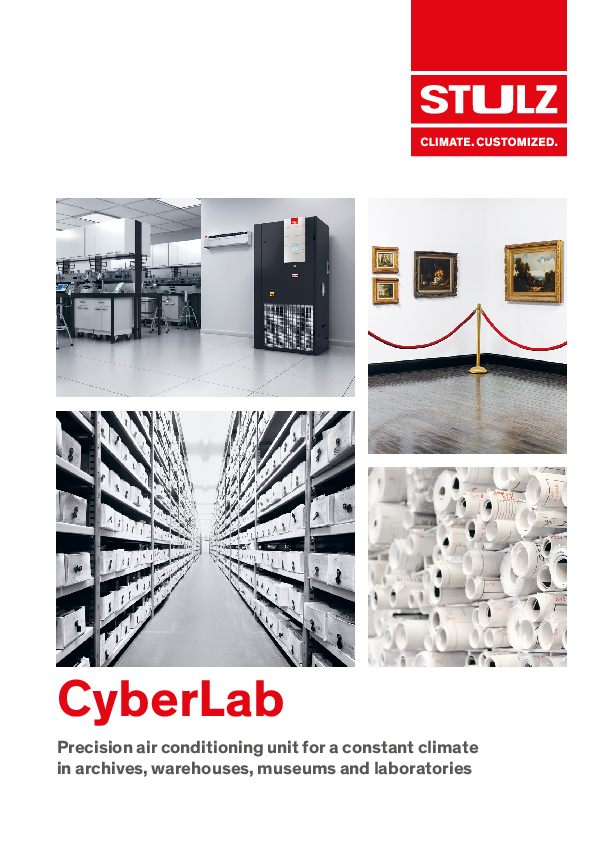 Need more information?
Download our brochure!
All details about CyberLab
Hygiene requirements to VDI 6022
The CyberLab was designed to comply with the requirements of the VDI 6022 German hygiene regulations. The integrated window in the unit enables you to check the condition of the condensate tray and heat exchanger easily at any time, and so prevent the growth of bacteria within the air conditioner for labs or museums.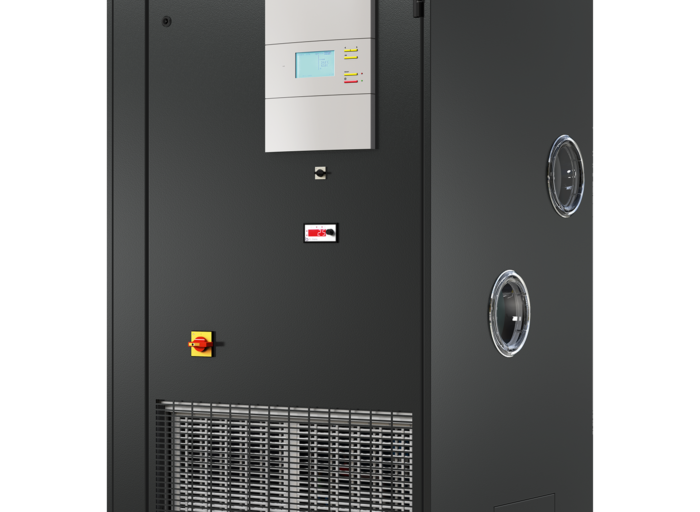 Humidification for laboratory coolers
For humidification, our STULZ UltraSonic BNB is connected externally and controlled by the CyberLab controller. These STULZ units are perfectly coordinated to guarantee optimum operation.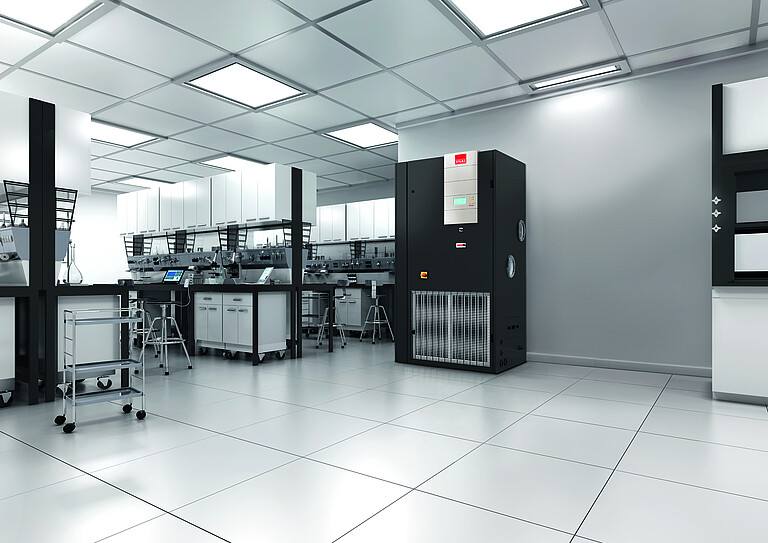 EC compressor
Infinite compressor control for maximum efficiency and precise temperature regulation
Maximum efficiency, especially in partial load mode
Constant supply air temperature
Integrated compressor soft start
Long service life thanks to continuous operation without compressor on/off cycles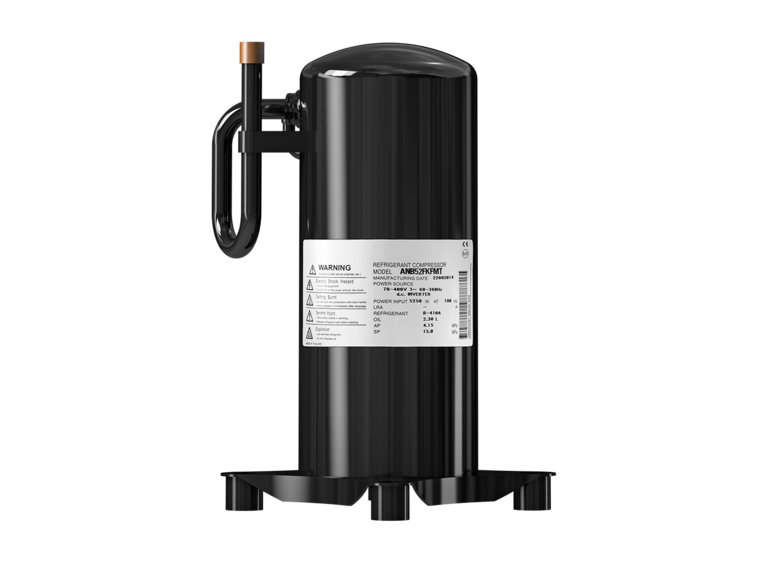 Control and monitoring
C7000 controller for controlling and monitoring the air conditioning system
Precise control of temperature and humidity
Modbus preinstalled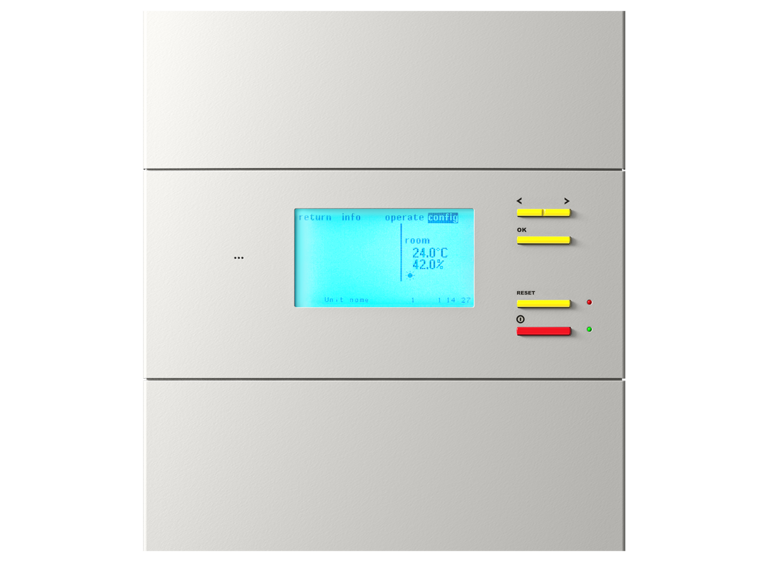 Options
Thanks to the numerous options and equipment versions available, you can perfectly adapt CyberLab units to your particular requirements.
External ultrasonic humidifier "UltraSonic BNB"
F7 filter
Air duct connection
Connection to building management system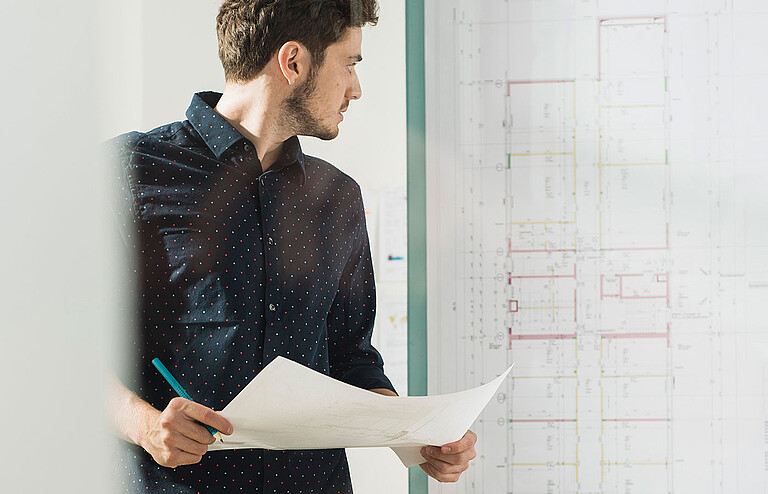 Cooling system
AS system: Air-cooled system
The refrigerant circuit of the air conditioning module consists of an evaporator, an expansion valve, an EC compressor and an external air-cooled condenser. Conveyed by a fan, the room air flows through the evaporator, where heat is extracted from it and transferred to the refrigerant. The air conditioning unit and external condenser are connected to one another by a closed refrigerant circuit.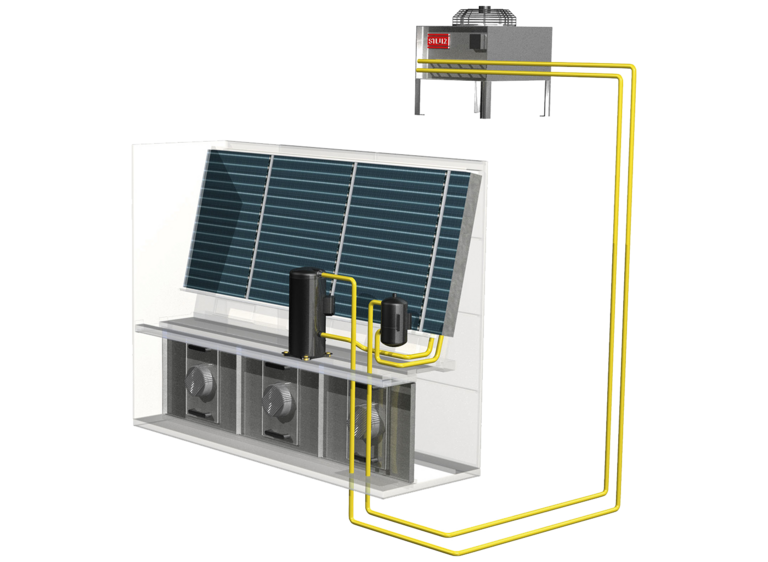 Service and maintenance
As a company with locations across the globe, we offer everything you need in the extremely dynamic world of information technology - plus professional advice in the right place at the right time.
Our trained and experienced sales and service partners are located in over 140 countries. The resulting proximity to our customers allows fast response times. In addition, regular training courses and an active exchange of information ensure high quality and an extensive knowledge of all our products. This way, you can be sure your products are in the best hands and get the right maintenance – all over the world.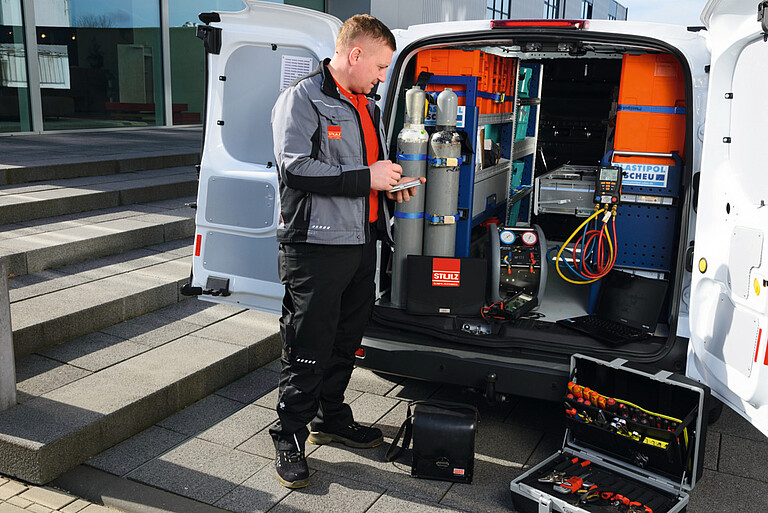 Test Center
In our state-of-the-art, 700-square-meter Test Center with its various climate chambers, we can perform a variety of tests on precision air conditioning units and chillers. During the development of the CyberLab, we were able to test and optimize it under all climatic conditions encountered around the world.
In addition, we offer you the opportunity to book a witness test in our Test Center. This allows you to have the desired air conditioning system tested according to your exact specifications, creating transparency and providing you with information about your system's performance and energy consumption.

Read more about our Test Centers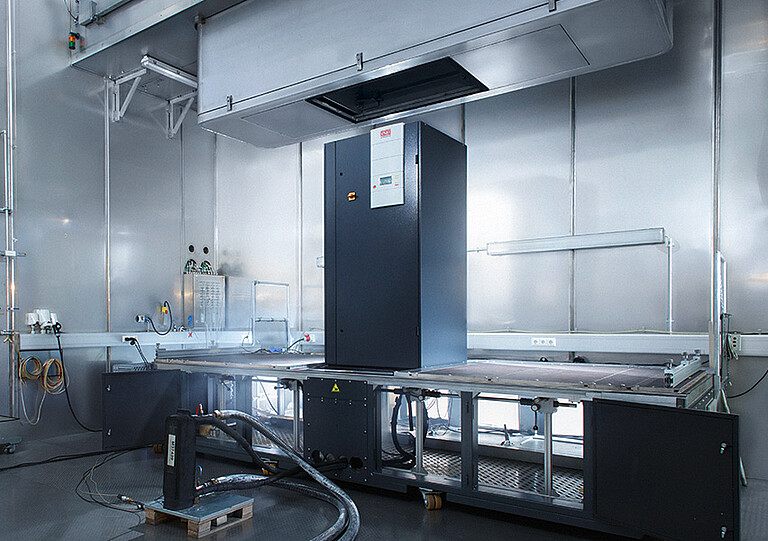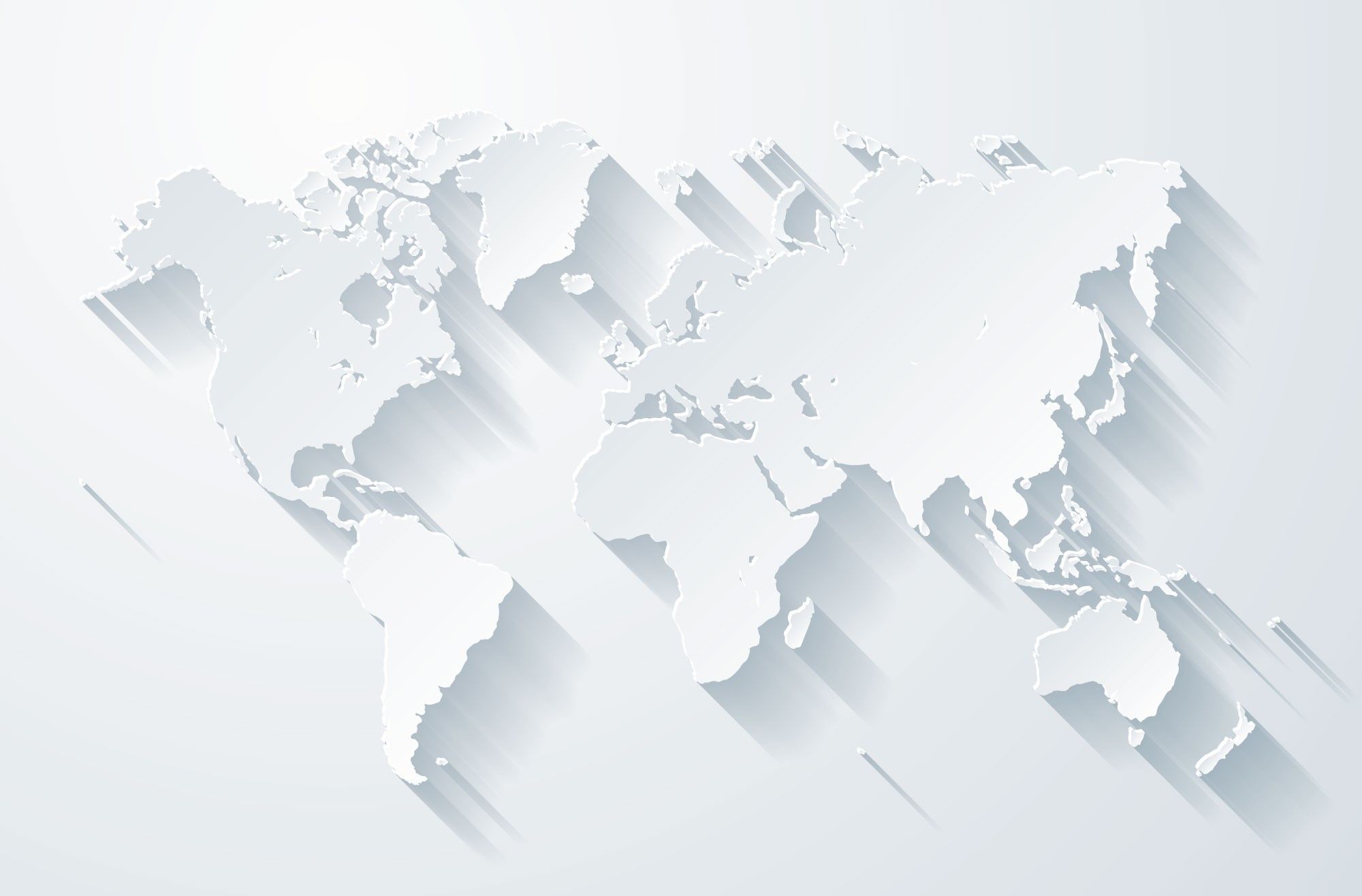 Please be aware that our product portfolio may vary in some countries. For more information on availability, please visit the respective country page of our subsidiaries.
Here you will find an overview of our locations.
Is the cooling solution you require not available in your region? Please feel free to contact us! Together we will find a solution - we look forward to hearing from you.
Back to Selection