Delivery, Off-load and Positioning, Installation, Start-up and Training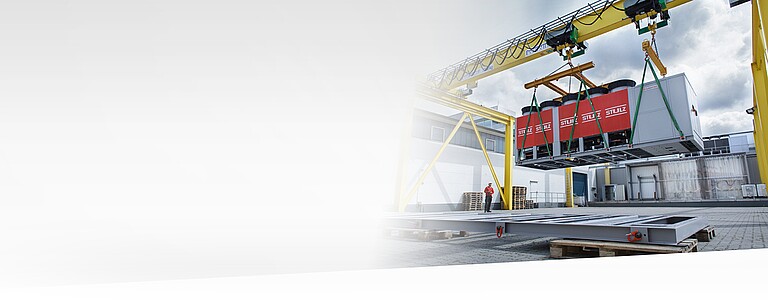 Even with the best-laid plans, you're only halfway there. It doesn't matter whether it's a new building, an extension or a renovation – only expert implementation will ensure the lasting success of any investment in air conditioning.
Delivery
Following receipt of your order, we will confirm the expected site availability date and agree a delivery date to suit your programme.
Flexibility is the name of the game and we always try our utmost to accommodate your site requirements, as we know that sites can be busy places with logistical and security issues.
Our units arrive on secure pallets with weather resistant packaging to ensure each one arrives in pristine condition. Standard deliveries can be made on vehicles with tail-lifts, free of charge, if the site has no off-loading facilities.
Larger units that do not fit on a tail-lift can be delivered on a vehicle with a Hi-Ab or On-Board Forklift at a small extra charge.
For hard to reach installations, i.e. roof, basement or enclosed compounds, we can arrange for a mobile crane delivery by our specialist supplier.
Offload and Positioning
Delivery of your specified equipment from manufacturing base to final installation
Removes concerns about transportation delays or damage
Access to your building too small? No problem, our units can be stripped down and then rebuilt and tested in situ, by our qualified engineers
Risk Assessments and Method Statements prepared for you. Site surveys carried out prior to equipment arrival to ensure delivery goes smoothly on the day
Installation
New installations
Direct Expansion systems can be installed by our own FGas qualified engineers.
Chilled water and Glycol systems can be installed by our industry accredited specialist partners
Existing installations
It is sometimes possible to re-use existing pipework when replacing the main units.
We can assist with pre-contract surveys and assessments
Accessories 
Bespoke floorstands and top plenums
Duct transition pieces and grilles
Leak detection modules and tape
Cold and Hot Water pumps
All can be measured, designed, manufactured and installed for you.
Start Up
For the full benefits of your precision air conditioning from day one, Start Up by one of our highly trained engineers is essential.
At the time of Start Up, our engineers can assist with terminating;
Remote On/Off connections
Fire alarm emergency shutdown
BMS volt free common alarm contacts
BMS connections
Sequencing of units - (Belden 9841 cable supplied and installed by others)
Water leak detection probes
Hot and Cold water pump electrical connections
Training
Now that your precision air conditioning equipment is up and running, a short training session can help you and your staff to make optimal use of the many functions and options.
Our highly trained and experienced engineers can provide training to suit your requirements, whether a brief overview of the controller operation, or an in depth training session for multiple staff members, we can adapt to suit your needs.
Once your equipment has been specified and ordered, we are able to offer pre-start controls training sessions at your preferred location.
This is especially useful regarding the BMS requirements, and we are happy to host sessions with your BMS specialist for us to fully understand your requirements and for you to fully understand the options available with the equipment ordered.
This can and often does save an immense amount of time once the equipment is actually installed on site.